Staff Specialist - Clinical Genetics
📁

Specialist
📅







REQ140771

Requisition #
📅







3 days ago

Post Date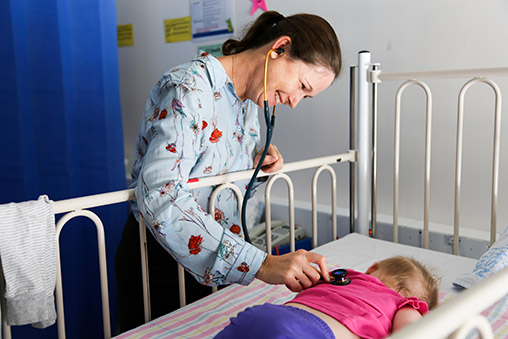 Sydney Children's Hospitals Network is the largest paediatric health care entity in Australia. We care for thousands of children each year in our hospitals and in their homes — with one purpose in mind — to help young people live their healthiest lives.

Employment Type
: Permanent Part Time
Position Classification
: Staff Specialist
Remuneration
: 166493 - 205456 (Full time equivalent)
Hours Per Week
: 24
Location
: Randwick
Requisition ID
: REQ140771
What you'll be doing
Provide excellent clinical services to children and their families as part of a multi-disciplinary team.
Participate in review and improvement activities, as well as training and education of staff.
Abide by the hospital code of conduct and participate in annual performance reviews for clinical services in accordance with the Staff Specialist (State) Award.

The position of Staff Specialist – Clinical Genetics will ensure that:
• Clinical services are focused on delivering excellent clinical care to children and supporting their families.
• Research and teaching is undertaken and focused on the area of Clinical Genetics.

The Centre for Clinical Genetics at Sydney Children's Hospital, Randwick, is one of the largest genetics services in New South Wales. The department offers a comprehensive clinical genetics service with numerous subspecialist and multidisciplinary clinics. There is a strong research program and the department is a major contributor to teaching at undergraduate (University of New South Wales) and postgraduate levels.

The appointee will provide inpatient and outpatient consultative services, teaching and research in clinical genetics in the Centre for Clinical Genetics and take part in service development activities. In addition to clinical service provision, the successful applicant would be expected to contribute to development of the research program and teaching activities of the department. Previous research training and successful research output are a requirement for the position, as is experience in teaching.

This is a 0.6FTE permanent joint position at Sydney Children's Hospital, Randwick.
*You may be required to work within any facility within the Sydney Children's Hospitals Network. Should this occur, reasonable notice will be provided.*

SCHN is an Equal Opportunity Employer and encourage all suitably qualified applicants to apply, including Indigenous Australians, and people from culturally diverse backgrounds.
As this is a "Category A" position, please refer to the Application Guide for vaccination requirements.
This position requires a Working with Children Check (WWCC) issued by the Office of the Children's Guardian. For more information on how to apply for the clearance, please visit the Office of the Children's Guardian Website https://www.kidsguardian.nsw.gov.au/
Aboriginal and Torres Strait Islander people are encouraged to apply. We recognise the value of Aboriginal staff providing health care to Aboriginal children and families that access the services we provide at the Sydney Children's Hospitals Network. Aboriginal job applicants are encouraged to visit the NSW Health Aboriginal Recruitment tool, Stepping Up to assist in preparing your application.
Please note: To be eligible for permanent appointment to a position in NSW Health, you must have an Australian citizenship or permanent Australian residency.
Need more information?
1) Click here for the Position Description and the Statement of Duties
2) Find out more about applying for this position
For role related queries or questions contact David Mowat on david.mowat@health.nsw.gov.au

Applications Close: 06/01/2020