Registered Nurse - Camperdown Ward - paediatric oncology
📁

Registered Nurse
📅







REQ344515

Requisition #
📅







Sep 23, 2022

Post Date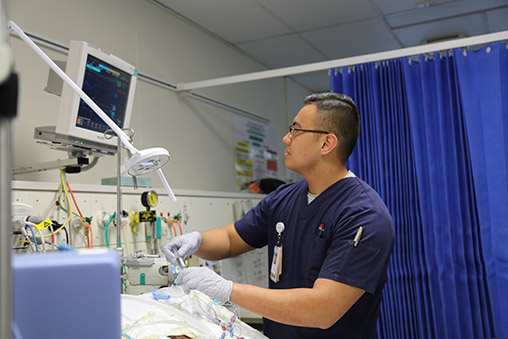 Employment Type: Permanent Full Time
Position Classification: Registered Nurse
Remuneration: 67357.32 - 94568.44 - full time equivalent base salary range (excludes super, leave loading and salary packaging)
Hours Per Week: 38
Requisition ID: REQ344515
Sydney Children's Hospitals Network is the largest paediatric health care entity in Australia. We care for thousands of children each year in our hospitals and in their homes — with one purpose in mind — to help young people live their healthiest lives.
Click here to learn more about our Network
Camperdown Ward staff provide the best quality inpatient care for children receiving treatment for cancer. With a dedicated core staff of experienced paediatric nurses, medical staff, and allied health professionals, we aim to provide the most current and effective treatments for a wide range of malignant and non-malignant conditions. As well as quality care, we also aim for quality of life for our patients and their families. Camperdown has a great team of staff, who care for our patients with great skill, dedication and compassion. We strive to maintain a working environment that is supportive for all staff. Education and professional development is a high priority and Camperdown Ward offers a comprehensive and supportive orientation program for new employees and ongoing educational opportunities and support for all Camperdown Ward Nursing staff.

What you'll be doing
The Registered Nurse provides safe, compassionate, person-centred care to patients and families of Sydney Children's Hospital Network.
The Registered Nurse acts as a role model by demonstrating behaviour and interacting with patients, their families and employees in a way that promotes a culture and standards that reflect the NSW Health CORE values of Collaboration, Openness , Respect and Empowerment.
Current Authority to Practice as a Registered Nurse with the Australian Health Practitioner Regulation Agency (AHPRA).

Demonstrated excellent verbal, written and interpersonal skills.

Demonstrated ability to work effectively in a multidisciplinary team.

Recent clinical experience as a registered nurse in a hospital setting.

Effective time management skills

Computer literacy.

Capacity to work a seven (7) day rotating roster including public holidays and reasonable overtime
SCHN is an Equal Opportunity Employer that values diversity - we acknowledge the vibrancy that a diverse workforce brings to enhance both our workplace culture and our service delivery to children, young people and their families and carers. We encourage all suitably qualified applicants to apply. If you identify as an Indigenous Australian or as a person with a disability, please contact us if you would like some more information about our recruitment process.
Aboriginal and Torres Strait Islander people are encouraged to apply. We recognise the value of Aboriginal staff providing health care to Aboriginal children and families that access the services we provide at the Sydney Children's Hospitals Network. Aboriginal job applicants are encouraged to visit the NSW Health Aboriginal Recruitment tool, Stepping Up to assist in preparing your application.
Please refer to the Application Guide and NSW Policy Directive PD2022_030 Occupational Assessment Screening and Vaccination Against Specified Infectious Diseases for vaccination requirements.
This position requires a Working with Children Check (WWCC) issued by the Office of the Children's Guardian. For more information on how to apply for the clearance, please visit the Office of the Children's Guardian Website https://www.kidsguardian.nsw.gov.au/
Applicants must have completed the vaccination course prior to commencement with NSW Health, or provide an approved medical contraindication certificate certifying the worker cannot have any approved COVID-19 vaccines available in NSW.
Acceptable proof of vaccination is the Australian Immunisation Register (AIR) Immunisation History Statement or AIR COVID-19 Digital Certificate.
ASARS-CoV-2 (COVID-19) 3 doses are required for Category A positions (refer to NSW Policy Directive PD2022_030 Occupational Assessment Screening and Vaccination Against Specified Infectious Diseases).
ASARS-CoV-2 (COVID-19) 3 doses are highly recommended for all other health care workers who have completed the primary course of COVID-19 vaccinations.
Please note: To be eligible for permanent appointment to a position in NSW Health, you must have an Australian citizenship or permanent Australian residency.
Applicants holding visas with working rights may be considered for temporary appointment (up to the expiry date of their visa) where no suitable applicant for permanent appointment is identified.
Need more information?
1) Click here for the Position Description
2) Find out more about applying for this position

For role related queries or questions contact Justine Battersby on justine.battersby@health.nsw.gov.au
For technical support please contact the customer services team on 1300 679 367 and select option 3.

Applications Close: 7/10/2022