Nurse Manager Grade 3 - Emergency Department CHW
📁

Nurse Manager
📅







REQ258587

Requisition #
📅







Sep 15, 2021

Post Date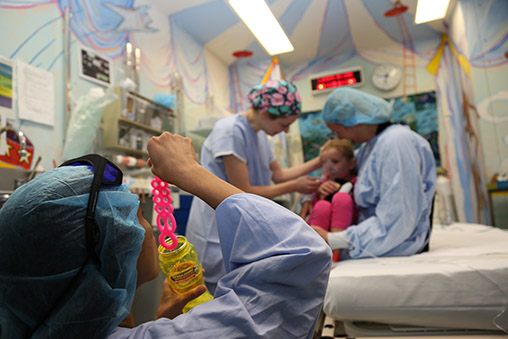 Employment Type: Temporary Full Time up to 28/03/2022
Position Classification: Nurse Mgr Gde 3
Remuneration: 127159.18 - 129522.86
Hours Per Week: 38
Requisition ID: REQ258587

Sydney Children's Hospitals Network is the largest paediatric health care entity in Australia. We care for thousands of children each year in our hospitals and in their homes — with one purpose in mind — to help young people live their healthiest lives.
Learn more about our network: http://www.schn.health.nsw.gov.au/professionals

What you'll be doing

The Nurse Manager is responsible for the professional and operational leadership of the Unit; delivering safe, effective and efficient patient and family centred care working collaboratively with the multidisciplinary team.
The Nurse Manager ensures high standards of professional practice and behaviour of the nursing staff within a nurturing, positive workplace environment. They provide leadership in developing, implementing and evaluating new models of care within a continuous quality improvement framework using evidence based best practice and research.
The Nurse Manager is responsible for the financial management of the Unit ensuring employee related expenses and goods and services are contained within budget allocations.
The Nurse Manager is responsible for leadership in the development, education and training of the nursing staff, providing mentorship, role modelling and support.
The Nurse Manager woks collaboratively with the Medical Co-Lead and the Clinical program Director – Critical Care to identify and develop strategic direction of the Unit within the Network and the NSW Ministry of Health strategic plans.


Current Authority to Practice as a Registered Nurse with the Australian Health Practitioner Regulation Agency (AHPRA).

A post-graduate qualification or equivalent work experience, or a combination of study and work experience with evidence of recent clinical experience

Demonstrated high level of written and verbal communication skills and ability to liaise and negotiate with clinicians, managers, staff and other key stakeholders and manage conflict

Demonstrated high level leadership skills and ability to motivate, inspire and manage staff to achieve service and organisational goals utilising recognised change management principles

Demonstrated experience in managing a complex service with competing demands for access, throughput and resources.

High level computer skills for health related programs including a range of workforce and performance/analytics systems

Demonstrated experience managing material, financial and Human Resources.

Understanding of the complexities of the paediatric tertiary referral environment
SCHN is an Equal Opportunity Employer and encourage all suitably qualified applicants to apply, including Indigenous Australians, and people from culturally diverse backgrounds.
As this is a "Category A+" position, please refer to the Application Guide for vaccination requirements.
This position requires a Working with Children Check (WWCC) issued by the Office of the Children's Guardian. For more information on how to apply for the clearance, please visit the Office of the Children's Guardian Website https://www.kidsguardian.nsw.gov.au/
Aboriginal and Torres Strait Islander people are encouraged to apply. We recognise the value of Aboriginal staff providing health care to Aboriginal children and families that access the services we provide at the Sydney Children's Hospitals Network. Aboriginal job applicants are encouraged to visit the NSW Health Aboriginal Recruitment tool, Stepping Up to assist in preparing your application.
Mandatory COVID-19 vaccination is required for all NSW Health staff in line with the recent NSW Government Public Health (COVID-19 Vaccination of Health Care Workers) Order 2021 (including any amendments):
Applicants living in an area of concern are required to provide evidence of their first dose of a COVID-19 vaccination or have booked an appointment to receive a COVID-19 vaccination on or before 19 September 2021 and will need to provide confirmation of booking for second dose prior to 30th November 2021

All other applicants are required to provide evidence of their first dose of a COVID-19 vaccination by 30th September 2021 and confirmation of booking for second dose prior to 30th November 2021

From 30th November 2021 onwards, all applicants to provide evidence of first and second dose of a COVID-19 vaccination
If you have a medical reason and cannot be vaccinated:
A COVID-19 Vaccine Medical Contraindication form must be completed by a GP or Medical Practitioner.
An exemption to the Public Health Order requirements will only be considered if you are unable, due to a medical contraindication, to be vaccinated against COVID-19.
Need more information?
1) Click here for the Position Description
2) Find out more about applying for this position
For role related queries or questions contact Angela Casey on angela.casey@health.nsw.gov.au

Applications Close: 26/09/2021